Dream & Passion
Amanda and her husband, Zane, have a passion for people and real estate. When she and her husband had their first child, Amanda decided to stay at home and raise their baby.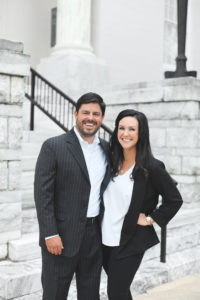 Shortly after, the real estate market started booming, and their dream of being debt-free started. They wanted to build a retirement so that they could continue to travel later in life. The opportunity presented itself and they decided to start investing in rental properties. As the market continued to thrive, Amanda went to Real Estate School. She obtained her license and in early 2017 started working in real estate to help their family purchase these investment properties.
Several years and three children later, this family dream turned into a family passion and the business grew. This allowed Amanda & Zane to purchase their own properties AND help people near and dear to their hearts with their real estate needs. They now own rental properties, rehab, and flip properties, and love to help people all over North Georgia achieve their real estate goals and dreams.
Goals & Beliefs
Amanda believes that relationships and communication are so important in the real estate industry. Her belief is this is truly the foundation of any good business. Trust and dependability are at the core of her business. As a wife and mother, Amanda decided to expand her family into Keller Williams in 2020. Building a team within the KW Family, Amanda, and her talented agents have assisted in helping others buy & sell over 500 properties across Northeast Georgia. In 2019, Amanda was the top-selling individual agent for Berkshire Hathaway in Northeast GA and in 2020, Amanda and her team ranked twice as top-grossing teams in the entire Southeast USA for Keller Williams. In 2021 and 2022, Amanda and her team continued to grow and maintain ranking as a top-selling team in volume and units for Keller Williams. As a whole, they thrive on being able to provide the best possible service to their clients and are always learning ways they can improve with each transaction.
Top five ways the Amanda Stewart Shield Team can serve you:
Professionalism
Innovative marketing strategies
Strong negotiation skills
Technology savviness
Access to off-market homes for buyers
With her support throughout the transaction and beyond the closing, she will make your real estate dreams a reality!